---


Dress up in a Strindberg T-shirt!

Strindbergssällskapet/The Strindberg Society has made a T-shirt with Strindberg's silhouette in black on a grey background. It is for sale at the shop of Strindbergsmuseet/The Strindberg Museum in Stockholm, or it can be ordered from ingela@strindbergsmuseet.se.
The prize is:
100 SEK for members and
150 SEK for non-members.
Seizes: S, M, L or XL.


---
The Strindberg Museum has more than 200 titles by and about Strindberg, including August Strindbergs Brev (August Strindberg's Letters) and the National Edition of August Strindbergs Samlade Verk (August Strindberg's Collected Works).
These are available through their Book store on the Web.
Members of Strindbergssällskapet/the Strindberg Society are offered a 20% discount
Strindbergiana is the annual journal of Strindbergssällskapet/the Strindberg Society since 1985 and published in collaboration with the publishing house Atlantis The journal aims to offer its readers a broad selection of research on Strindberg's life and writing, an overview of current performances, thoughts on Strindberg by contemporary cultural personalities, and much more.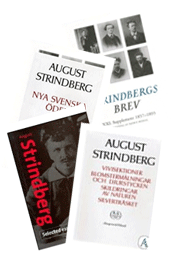 Strindbergssällskapet/The Strindberg Society has published with the publishing house Bonniers
August Strindbergs Brev I– XXII
(August Strindberg's Letters I-XXII),
editors Torsten Eklund and Björn Meidal, 1948-2001.

The Society initiated and began publication of
August Strindbergs Samlade Verk
(August Strindberg's Collected Works), 1981-.
In 1986 the responsibility was taken over by Stockholm University.


Finally, the Society has published a number of books, including the following (several of the titles are available for sale in the Museum Bookstore):

August Strindberg, En berättelse från Stockholms skärgård with 8 drawings
and a color plate, with an introduction and commentary by Torsten Eklund, 1948.

August Strindberg, Vivisektioner. The French texts with a parallell Swedish translation by Tage Aurell. Introduction and commentary by Torsten Eklund, 1958.

Carl Reinhold Smedmark (ed.), Essays on Strindberg, 1966.
Strindberg and modern theatre, 1975.

Donald K. Weaver (ed.), Strindberg on stage: Report from the
symposium in Stockholm, May 18–22, 1981, 1983.

Michael Robinson (ed.), Strindberg: The Moscow papers, 1998.

Gunnar Ollén, Forskarliv. Sex decennier med Strindberg, 2004.